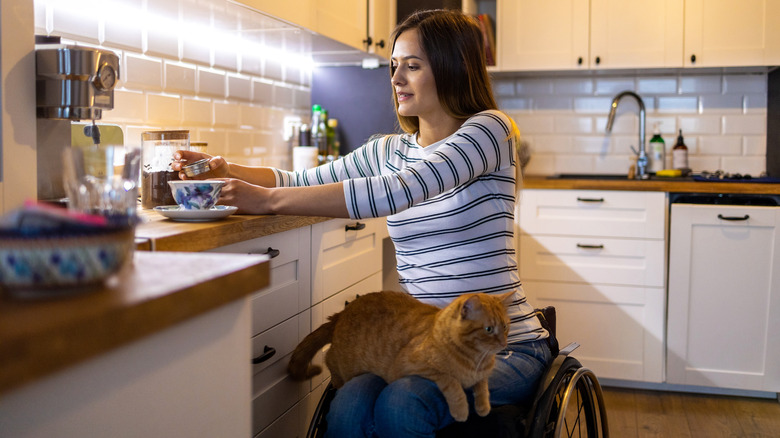 18 Simple Design Tricks To Help Make Your Kitchen More Accessible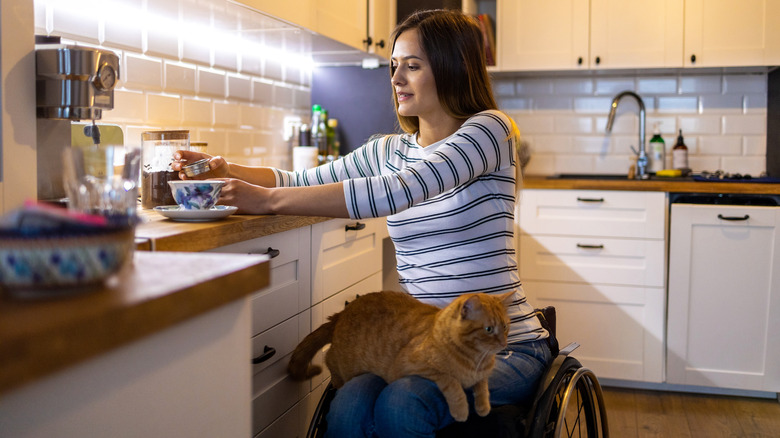 pikselstock/Shutterstock
Whether a family member is recovering from a temporary injury, is permanently disabled, or getting up in years, there are times when you'll need to think about making your home more accessible, especially the kitchen. After all, it's the most-used room in the house for most people, not just for food prep. Kitchens are gathering places, dining spaces, and work areas, too.
Having ample space to maneuver wheelchairs and walkers is the first step toward an accessible kitchen, but there are many other tips and features you can consider as well. From unique cabinetry to easy-care surfaces, kitchens can be custom-designed to meet individual needs. Even if you're not in a spot to undertake a complete remodel, there are some changes you can make one by one that will make a big difference in the life of someone with mobility challenges, as noted on Enable Me. Take a look at the following ideas for creating a kitchen with independent living in mind.
1. Accessible appliances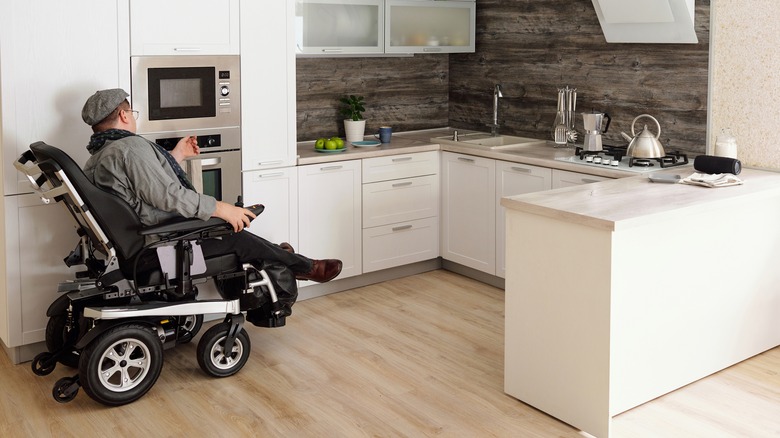 Pressmaster/Shutterstock
When remodeling a kitchen with accessibility in mind, the placement and height of key appliances like microwaves and ovens is an important consideration. 
2. Use tools to make kitchens accessible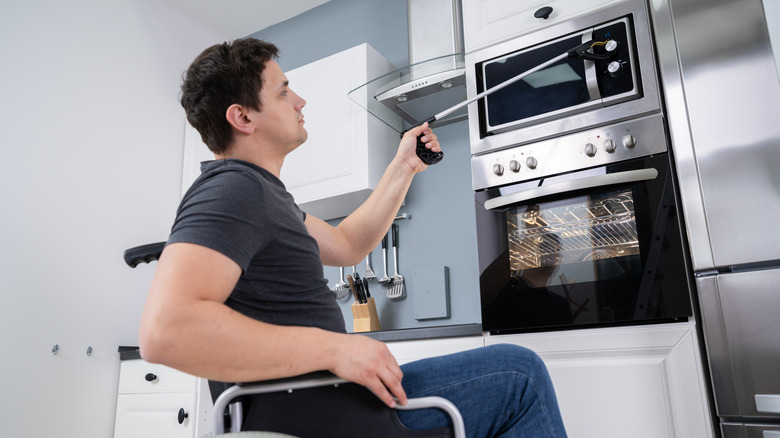 Andrey_Popov/Shutterstock
There are times when a kitchen remodel isn't feasible, especially when renting an apartment. In these situations, there are tools to help folks with limited mobility more easily reach knobs and handles. 
3. Adding an accessible refrigerator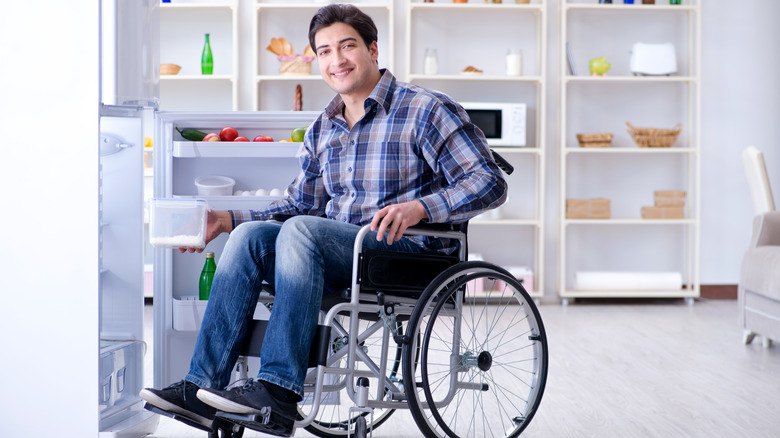 Elnur/Shutterstock
While you might not be able to change out all the appliances in a kitchen by doing a complete remodel, replacing a key one like a fridge can make a big difference. 
4. Open areas under sinks and stoves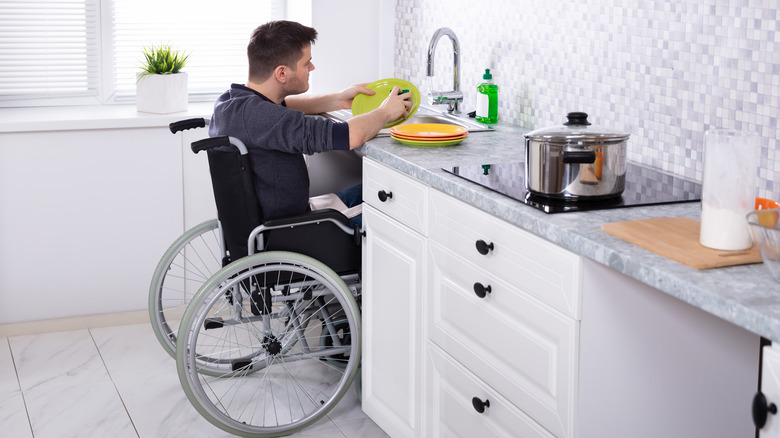 Andrey_Popov/Shutterstock
If you can consider a remodel, shallow-depth sinks make tasks like washing dishes much easier for those in wheelchairs. Built-in cooktops, also called hobs, can be designed in this way as well.
5. Add a smart faucet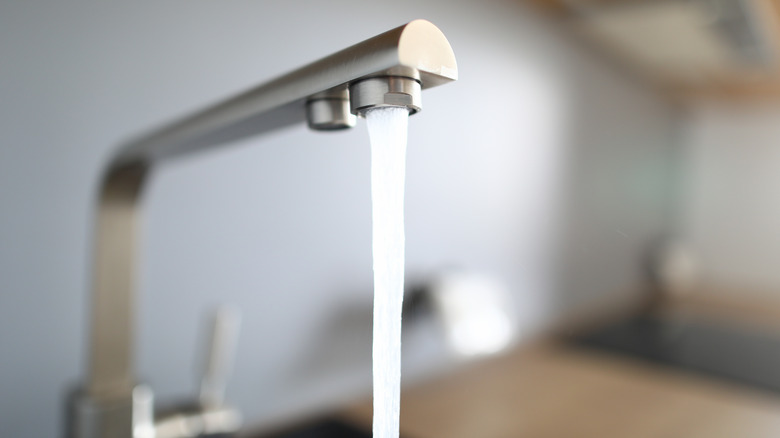 H_Ko/Shutterstock
Adding a smart faucet to a kitchen provides a touchless way to turn water on and off. Many can be voice-activated or app-controlled as well. If you're not handy when it comes to DIY plumbing, you might need to hire a professional to help with this one. 
6. Integrate accessible cabinetry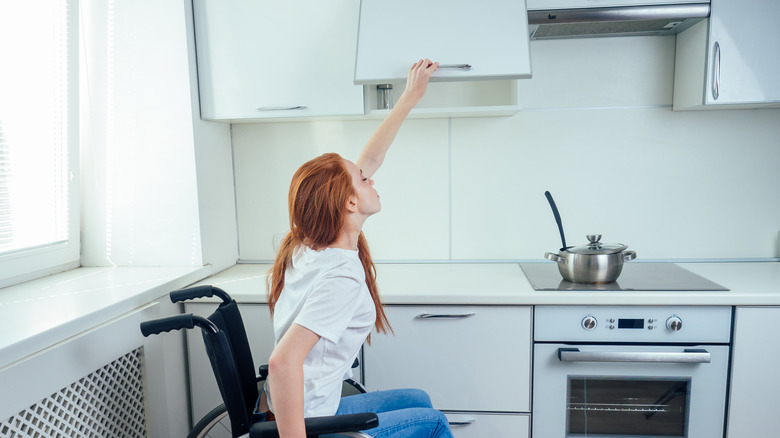 yurakrasil/Shutterstock
This is another idea that requires a more extensive remodel, but the result can be game-changing. Many cabinet features make accessible living easier than ever. Some even have pop-out racks that lower when a door is raised perfect for storing dishes. 
7. Add pull-out shelving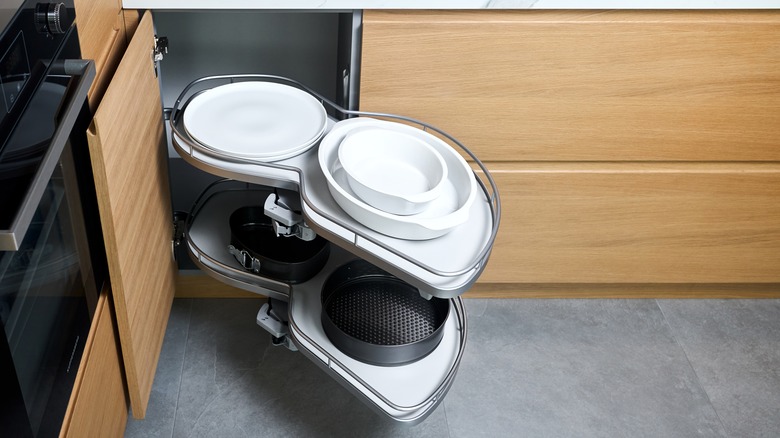 RYosha/Shutterstock
Even if you can't replace all the cabinets in a kitchen, retrofitting some of them to make frequently used items easier to reach is a good alternative. 
8. Add drawers to cabinets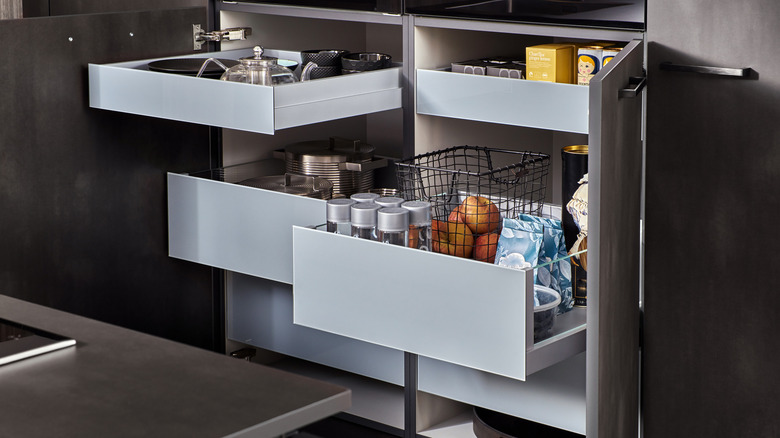 PK-Donovan/Shutterstock
Drawers in lower cabinets are another addition to a kitchen that make both food and tools easier to reach. 
9. Move frequently used items to lower spots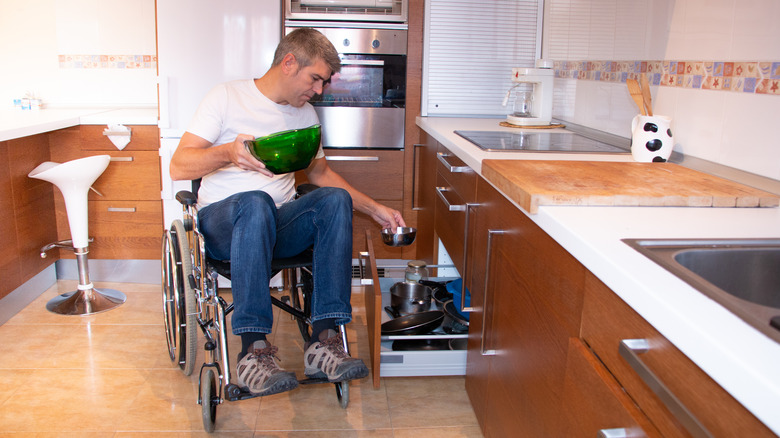 Gustavo MS_Photography/Shutterstock
Placing items used most frequently in lower drawers and cabinets is also a good idea when rearranging accessible kitchens. 
10. Install pull-out spice racks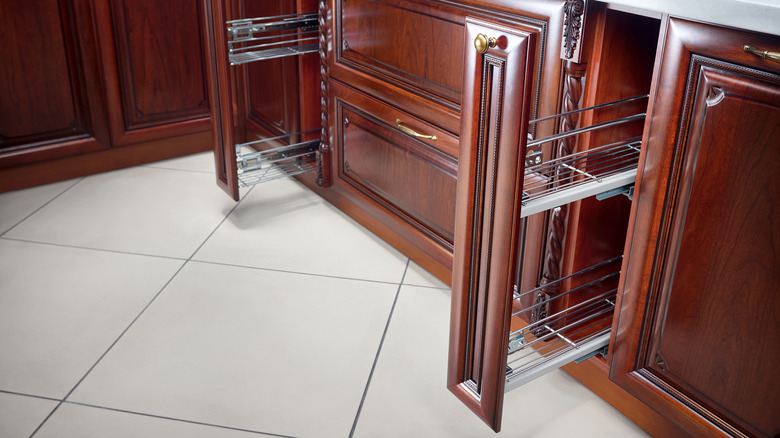 RYosha/Shutterstock
While you might think of an accessible kitchen as being very basic, there are cabinetry options available for every taste and budget. Features like pull-out spice and can racks can add a welcome touch while utilizing space that might have otherwise been wasted. 
11. Install soft-close hinges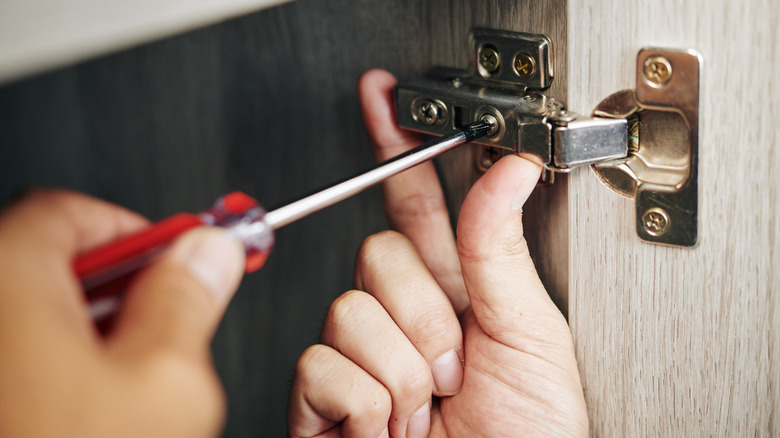 Dragon Images/Shutterstock
Installing new door hinges on kitchen cabinets can make them easier to close. Soft-close hinges only cost a few dollars each when purchased in bulk but they make closing doors an easier task. They also upgrade a kitchen and make it a bit more posh. 
12. Lower counter heights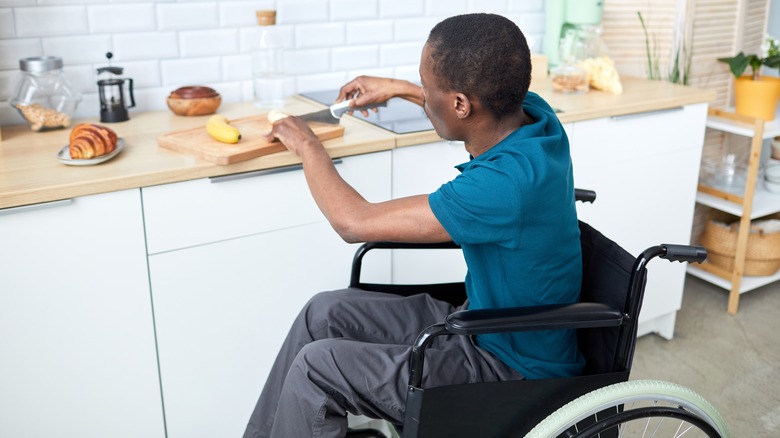 SeventyFour/Shutterstock
Lowering counter heights is a consideration in kitchens for use by individuals confined to a wheelchair. Even if you can't lower the height of all the cabinets in a kitchen due to budget constraints, adding a portable island or small table in a lower height can be a good substitute. 
13. Utilize magnetic knife racks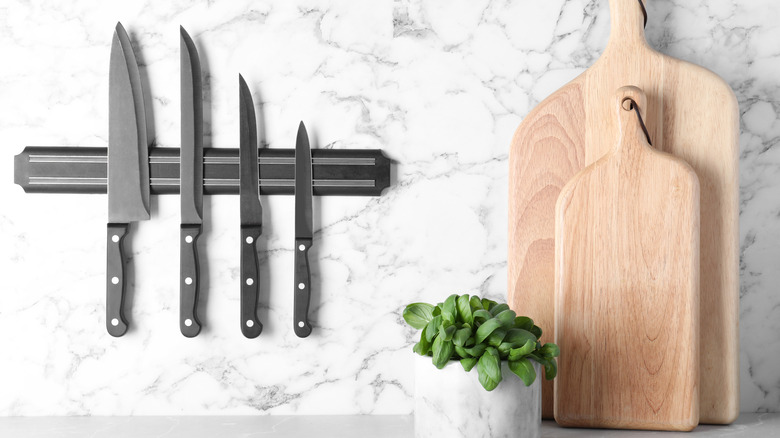 New Africa/Shutterstock
Adding magnetic knife racks to a kitchen can make frequently used knives easier to reach and store. Using wall space for storage also frees up drawers for other necessities. 
14. Add hanging utensil racks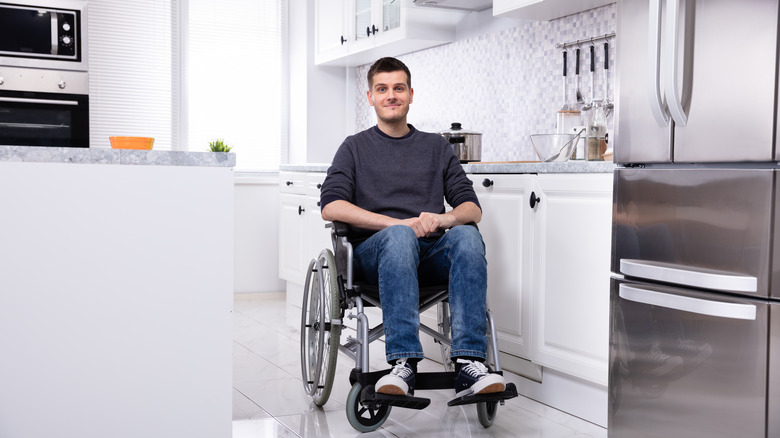 Andrey_Popov/Shutterstock
Another way to utilize wall space for storage and accessibility is hanging utensil racks within easy reach of stovetops. 
15. Install surfaces that are easy to clean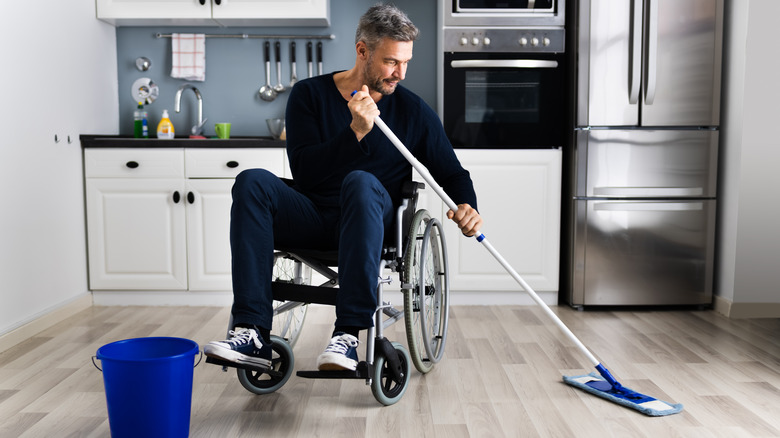 Andrey_Popov/Shutterstock
When installing new flooring, there are many grout-free options that make regular cleaning and spill removal easy to accomplish. 
16. Accessible prep areas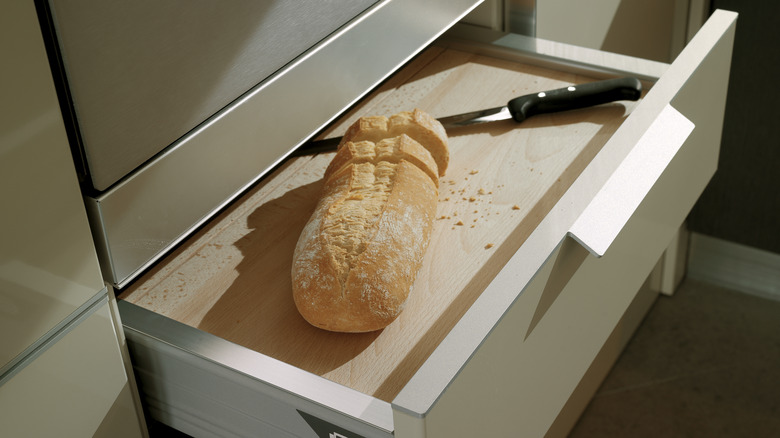 Riccardo Bianchi2/Getty Images
Planning the perfect accessible kitchen means having prep areas that are the right height and wheelchair-friendly. Counters with overhangs and built-in cutting boards that slide out of cabinetry are both options when remodeling. When that isn't possible, consider leaving a cutting board inside a drawer and using it from there. 
17. Utilize open islands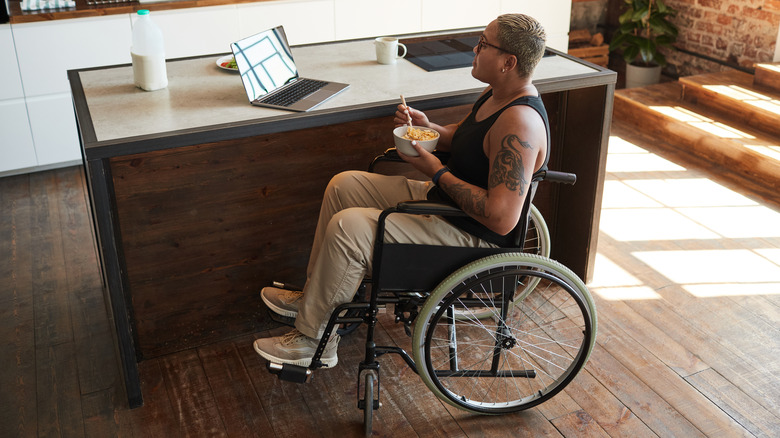 SeventyFour/Shutterstock
Many kitchen islands have space to stow stools when not in use. They can also be accommodating to wheelchairs when left open. 
18. Keep frequently used items on the counter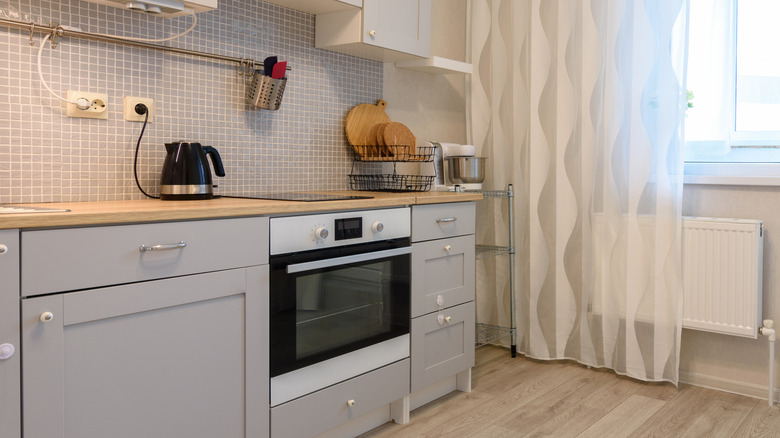 Madhourse/Shutterstock
Minimizing clutter on counters makes them easier to clean. But when mobility is an issue, keeping essentials used daily within easy reach also makes sense. This is also a good idea for heavier items like slow cookers, air fryers, and stand mixers.
https://www.housedigest.com/1133765/simple-design-tricks-to-help-make-your-kitchen-more-accessible/