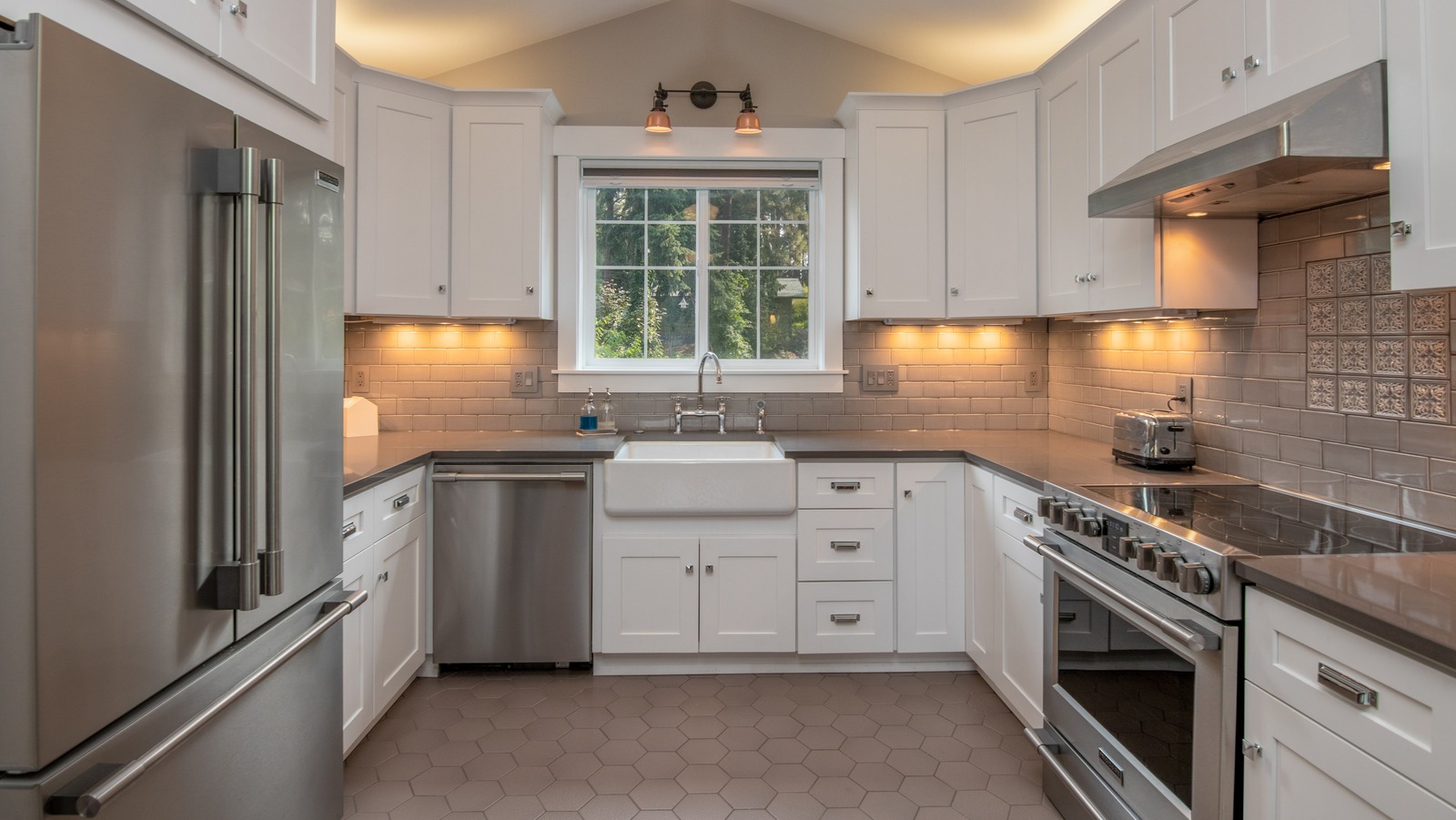 25 U-Shaped Kitchen Ideas That Will Look Good In Every Home
Whether your kitchen is large and spacious or just big enough for you, certain designs can make the most of the space there is. U-shaped kitchens, for example, are great for making the most of every square inch, utilizing every free spot for counter space and storage, Dura Supreme Cabinetry notes.
U-shaped kitchens are named for their three-sided design, which is similar to a galley kitchen but connected at the end. This means there's counter and cabinet space on every edge, making your kitchen infinitely more useful. In a smaller kitchen, you can simply turn your body to have access to each area of the kitchen, and in a larger room, you similarly minimize unnecessary foot traffic. As Mr. Cabinet Care points out, it also helps you stick to the kitchen triangle rule. This rule asserts that each main work area — fridge, stove, and sink — should all be in a triangular formation from one another, making it easy to access them as needed. If you want to incorporate a U-shaped kitchen in your next remodel, keep reading for some gorgeous inspiration.
1. Japandi style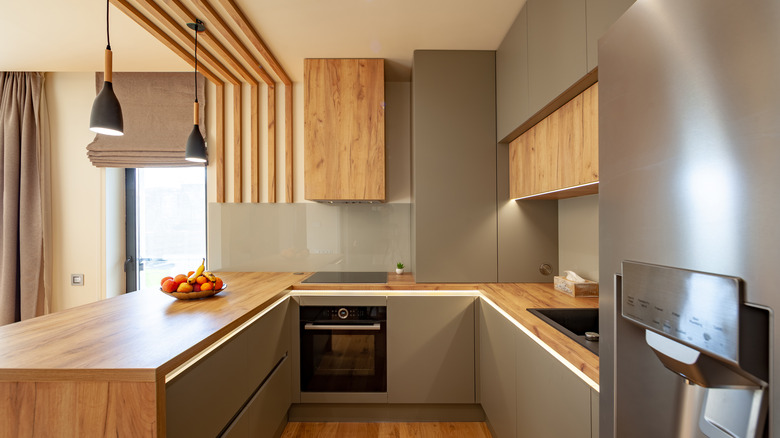 Gabi Moisa/Shutterstock
Japandi refers to a mix of classic Japanese and Scandinavian styles and looks great in a kitchen. It especially works in a U-shaped kitchen, since both styles are all about functionality.
2. Bright boho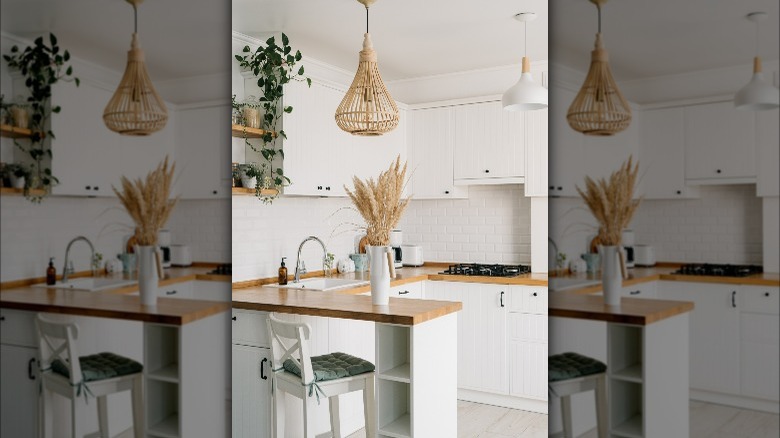 Switlana Sonyashna/Shutterstock
U-shaped kitchens can have a very open, accessible feel if they're more of a feature than tucked away. Highlight this open feel with a bright and airy, boho-style kitchen, including white-washed bricks and bamboo and wicker accents.
3. Modern style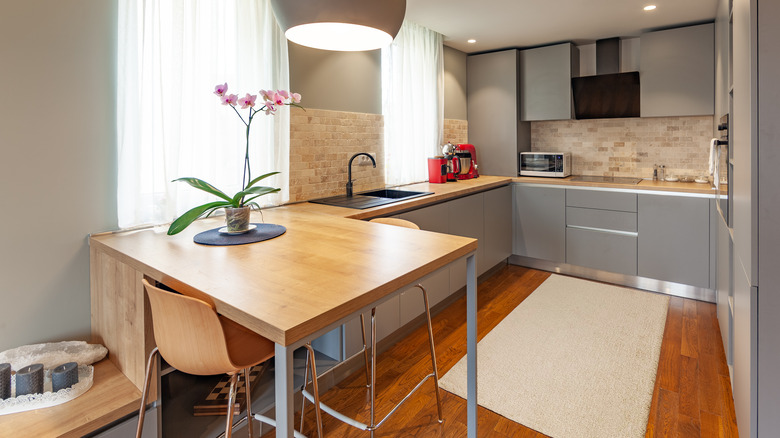 Gabi Moisa/Shutterstock
Turn a long L-shaped kitchen into a U-shaped one with a bump-out breakfast bar at the end, which can also function as an additional counter and food prep space.
4. Trendy design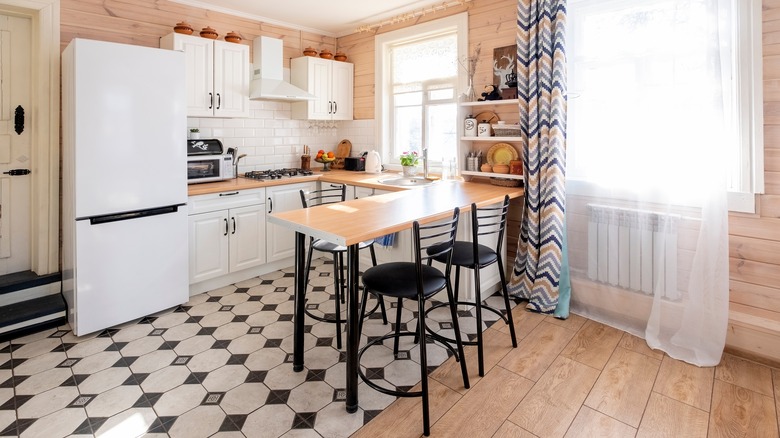 Lana Kray/Shutterstock
Emphasize the unique qualities of your U-shaped kitchen with a trendy, slightly vintage design. Include butcherblock countertops, black steel accents, wood paneling, open shelving, vintage-style tiles, and more.
5. Super small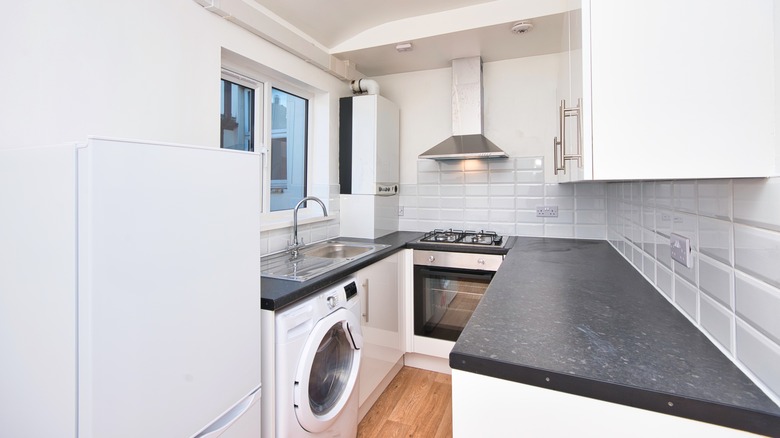 property-exposure/Shutterstock
A U-shaped kitchen is ideal for super small spaces. If you're especially cramped for space, consider installing your clothes washer in the kitchen alongside your fridge and oven, too.
6. Monochrome marble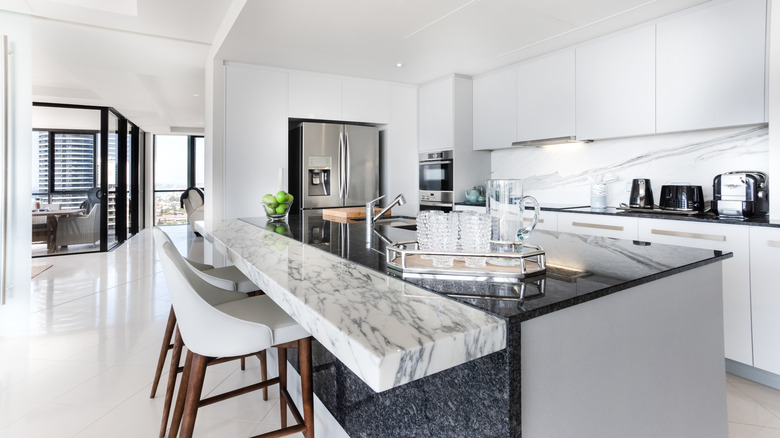 JR-stock/Shutterstock
If you have a little more space in your U-shaped kitchen, go for a brighter monochrome color palette, accentuating it with gorgeous marble countertops and backsplashes.
7. Family kitchen
If you have a slightly wider U-shaped kitchen, consider adding an island, dining table, or both in the center, turning it into both a functional cooking space and a family gathering area.
8. Stylish design
For a stylish and classic design in your U-shaped kitchen, opt for white brick walls and wood floors with lovely matte navy blue cabinets and gold hardware.
9. Bachelor kitchen
For a slightly more sophisticated, bachelor-esque U-shaped kitchen, opt for raw wood cabinets, sleek black countertops, and black appliances. 
10. Bright and white
Brighten up your U-shaped kitchen and make it feel a little more spacious with lots of bright white shades — white countertops, white marble backsplash, white cabinets, etc. Add some light wood accents to ground it while still feeling bright.
11. Country kitchen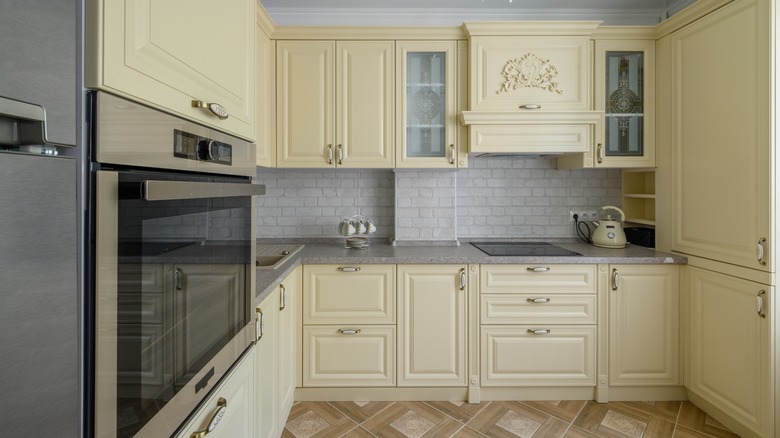 Serghei Starus/Shutterstock
For a homier, country-style kitchen, opt for a lovely pale yellow color for your cabinets with beautiful carvings or patterned glass panels on the cabinet fronts. Save even more space by choosing a wall-mounted stove.
12. Cabinet wall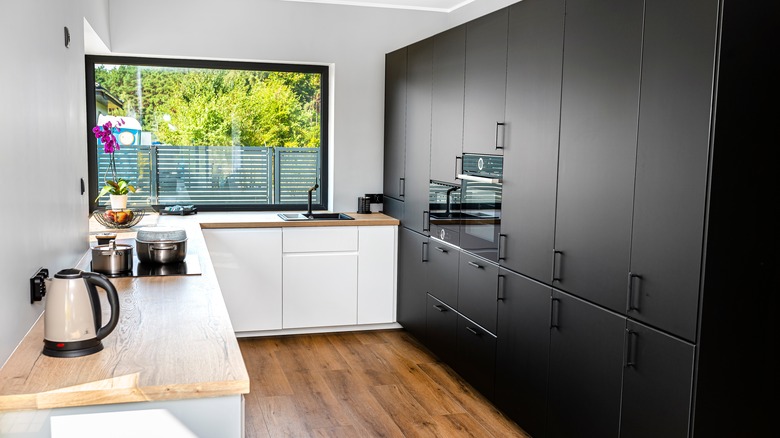 Kinek00/Shutterstock
If you're not too concerned about extra counter space in your U-shaped kitchen, have the third edge be a pantry or cabinet wall. Make it stand out by choosing a contrasting color.
13. Mid-century wood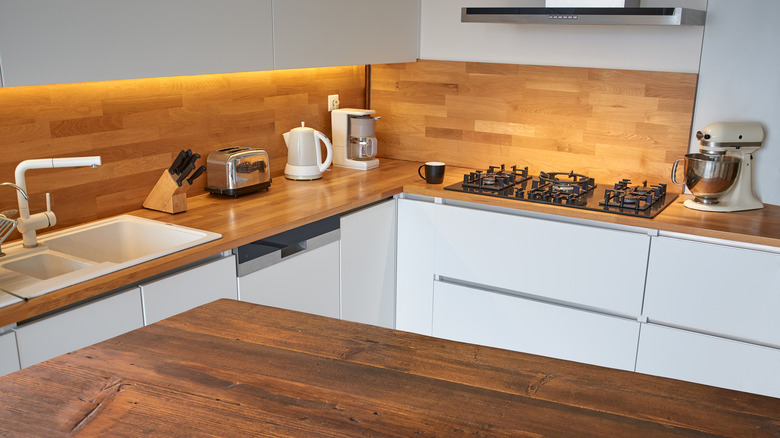 Harun Ozmen/Shutterstock
Add a bit of dynamic texture and color in an otherwise plain white U-shaped kitchen with a warm, orange-toned mid-century wood countertop and backsplash.
14. Low profile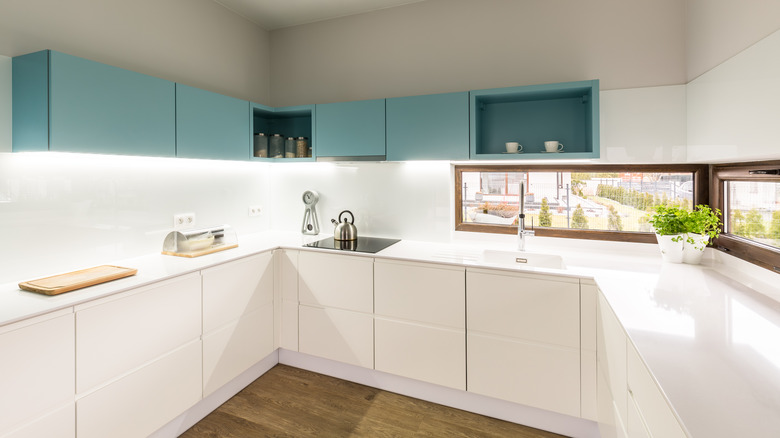 Katarzynabialasiewicz/Getty Images
Add even more intrigue to your U-shaped kitchen by hanging your wall cabinets lower than usual for a unique, low-profile kitchen. Paint them a fun and colorful shade to make them stand out even more.
15. Retro and cute
Urfinguss/Getty Images
Another way to have fun with your U-shaped kitchen is to go for a retro and kitschy design. Choose a high gloss retro shade like mustard yellow with vintage-inspired appliances and décor.
16. Simple and classic
On the other hand, you don't need to do anything fancy for your U-shaped kitchen to be effective. Cherry wood cabinets and granite countertops are a foolproof combination that will look great in a smaller kitchen design.
17. Matte appliances
Add a level of elegance and sophistication to your U-shaped kitchen with sleek, matte-finished stainless steel appliances. The matte effect will be particularly noticeable in a smaller and more intimate environment.
18. Apartment style
The convenience provided by a U-shaped kitchen is highly desirable in a small apartment or studio. You can use the outer edge as a small dining area or breakfast bar as well as extra and invaluable counter space. 
19. Gray theme
Make your kitchen look classic but very intentionally designed with a gray-themed design. Don't keep it simple, though — contrast your grays with a high-vein marble countertop, smooth gray cabinets, a busy gray tile backsplash, steel hardware, and shiny stainless steel appliances.
20. Stone backsplash
The cabinets tend to be the star of the show in U-shaped kitchens since there are so many of them. Don't let your backsplash get lost in the mix, though. Instead, make it pop with a multi-colored stone tile design.
21. Cabinet kitchen
The best part of the U-shaped kitchen design is how easy it is to slot into small spaces. You could even repurpose a larger cabinet or pantry area into a small but nonetheless effective U-shaped kitchen.
22. Color mixing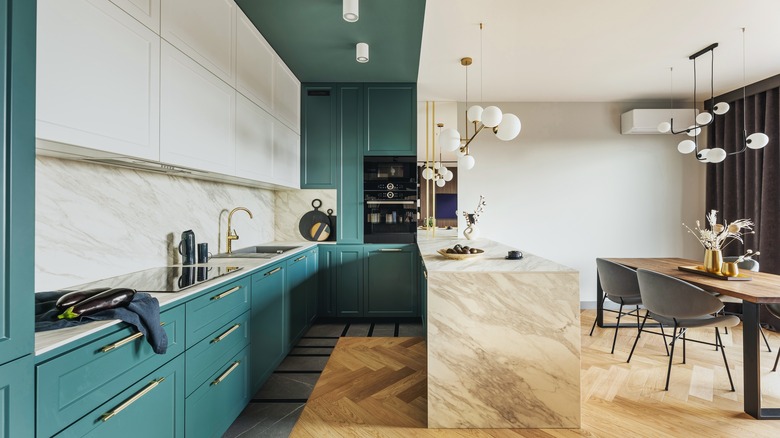 Followtheflow/Shutterstock
Play with the different sections of your U-shaped kitchen, especially if it's open concept with your dining room, with stark color mixing and blocking. Choose a fun color for the official kitchen area and another contrasting shade for the edge counter that divides the kitchen and dining room.
23. Sleek and modern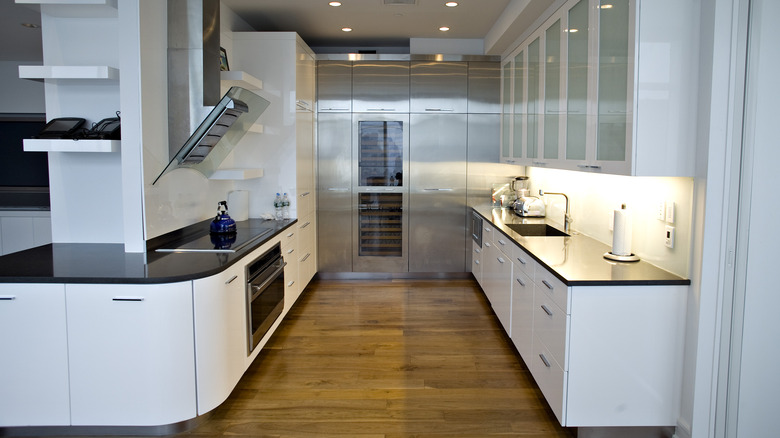 Bloomberg/Getty Images
There's a sleekness to the design of a U-shaped kitchen you can emphasize with clean white and black countertops and cabinets, pairing it with sleek and modern stainless steel appliances.
24. Bright marble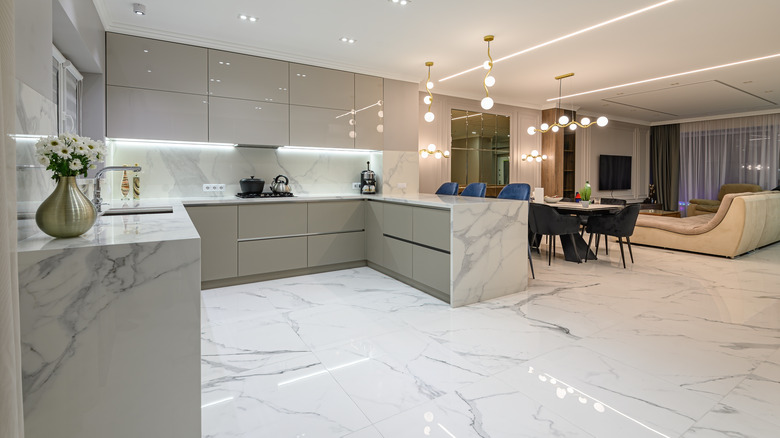 Serghei Starus/Shutterstock
Marble is one of the most gorgeous materials you can use in your kitchen. Choose a marble waterfall countertop to accentuate the edges of your U-shaped kitchen's counters. 
25. Tuscan style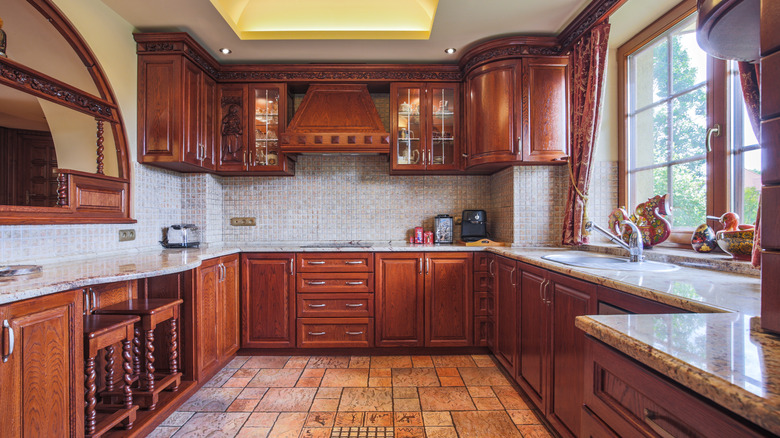 Katarzynabialasiewicz/Getty Images
If you have a preference for more dramatic, heartier designs, turn your U-shaped kitchen into a classic Tuscan design with warm cabinets, granite or darker marble countertops, and terracotta tiled floors.
https://www.housedigest.com/1119281/u-shaped-kitchen-ideas-that-will-look-good-in-every-home/