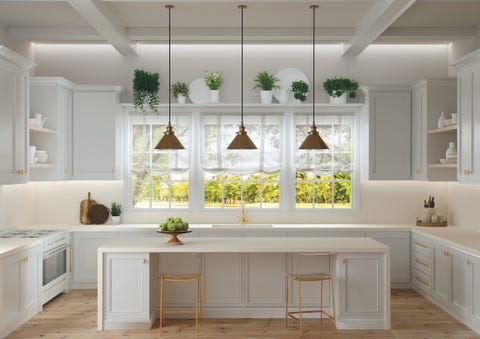 3 Calming Kitchen Ideas for a Fresh Renovation
It never fails—you spend hours cleaning the rest of the house, and guests just seem to congregate in the kitchen. Arguably the most magnetic—and the most useful—room in the house, the kitchen is where food prep, meals, homework, hangouts, late-night snacks, and everything in between happens. You spend so much time there, it stands to reason you're going to want to update your kitchen every now and then so that it's not just as comfortable (and practical) as possible, but a truly pleasant place to hang out.
When you do put in time, money, and temporary inconvenience to remodel, you want the change to be one you'll be thrilled to live with as long as possible. When designing your new kitchen for longevity, remember that, while kitchen trends tend to come and go and then come back around again (see: built-in dining nooks, adorably retro appliances), soothing, neutral hues never go out of style. Muted tones of brown, beige, and grey can have a calming effect on a home, and may evoke a feeling of being outdoors. They also provide a solid neutral base to work from, allowing you to play around with bolder colors, patterns, textures, and materials as you build your perfect space. Ready to get cooking? Try one of these three recipes for color palettes that are sure-fire crowd pleasers.
Off-White and Metallics
Having an all-white kitchen is nice. Getting that bright, airy feel with a few extra layers of color for visual appeal is even better. Riverlet, an off-white hue in Caesarstone's new Pebbles Collection of sustainable nature-inspired surfaces for countertops, has just a touch of honied amber capillaries which add depth, and a honed finish to reflect more light into an already bright space.
To lean fully into that gentle-breeze-on-a-warm-spring-day feel, pair your Riverlet countertops with very on-trend white cabinetry, metallic hardware, and light flooring. Then, be sure to stock your open shelving with clean, monochromatic ceramic dishes. A few well-chosen (and well-cared-for) plants bring in greenery.
Black and Brown
If you're the type who thinks sunny days are sweet, but overcast ones are spectacular, feed your misty, moody side with Caesarstone's textured black Darcrest on backsplashes and countertops. Darker shades are growing in popularity as homeowners embrace a sophisticated, urban feel, and this stone, with hints of organic ochers and brownish greens delivers.
Pair it with other slate-hued finishes—oxidized metals, patinated concrete, lacquered shelving—and stained woodgrain flooring. Then, bring in just a touch of brightness with brushed hardware in copper or burnished brass. This combo is especially effective when you have—dare to dream—floor to ceiling windows.
Black, White, and Grey
It's right here in black and white—an entirely elegant take on the two timeless hues. Layalite, a pure-as-snow stone with grey veining, brings bright contrast as a countertop for black cabinets. On the walls, harmonize the two opposing colors with a grey paint. Select a hue with a warm undertone for a look that feels cozy and inviting.
Piling on other neutrals—consider light oak flooring, glazed white backsplash tiling, and brushed gold hardware—adds visual interest while keeping the overall vibe sleek and sophisticated.
https://www.housebeautiful.com/design-inspiration/a42109023/calming-kitchens-caesarstone/