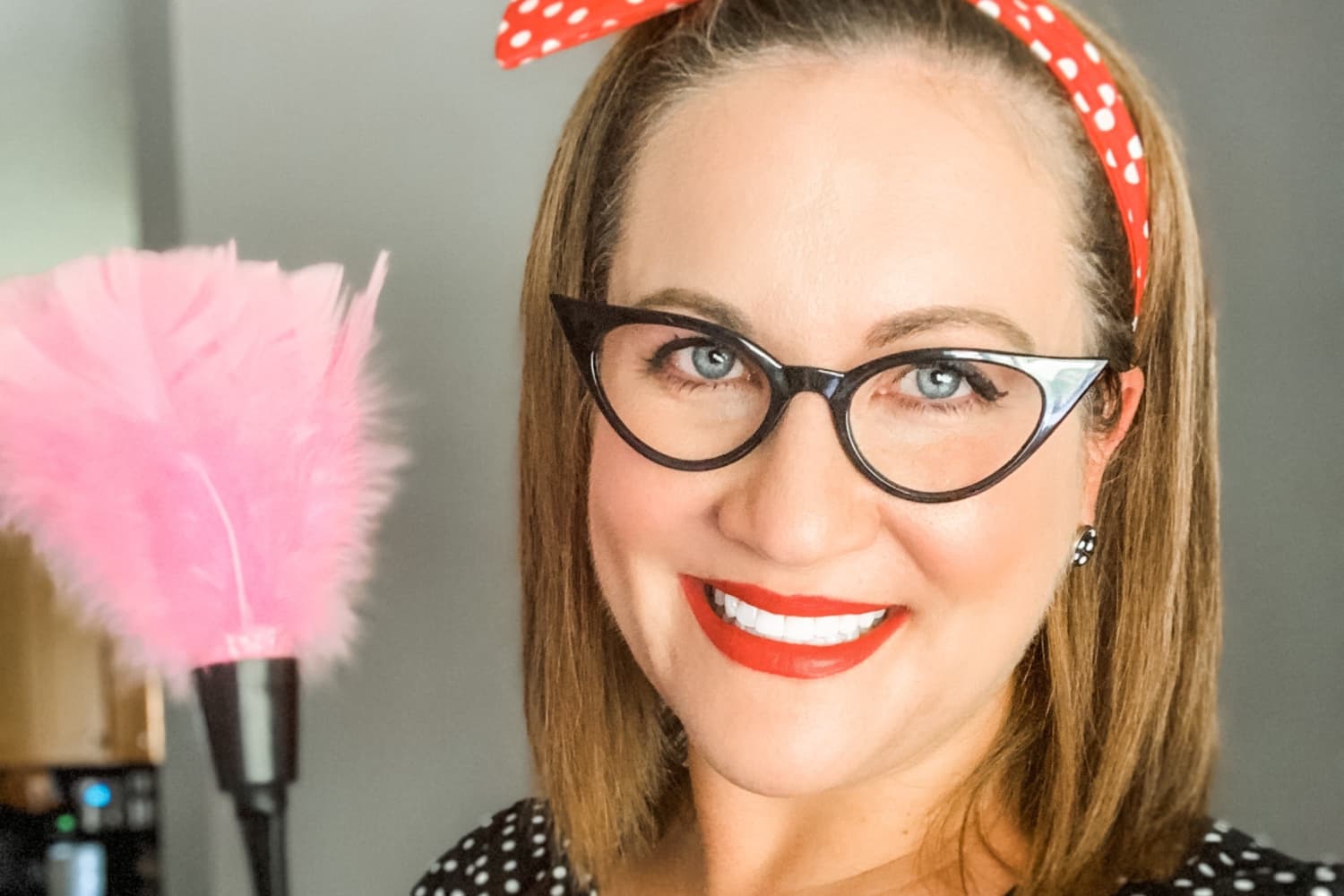 6 Old-School Cleaning Tips from YouTuber Contemporary Mama
"I've always had a fascination with the 1950s," explains Previti, who spent time cruising through blogs and asking her mom about her Nana's decades-old cleaning routine. From her research, Previti says she learned how little was needed to keep a home sparkling clean. "Companies today want consumers to believe we need a certain product for each area in the home," says the mom of two who also works as an intensive care unit nurse. "Honestly, I found that there isn't much that can't be cleaned with products you already have in your home, such as vinegar and baking soda." 
We asked Previti to share her favorite vintage cleaning tips — including one she learned from the comment section.
1. Shine your windows with vinegar and rubbing alcohol.
Everyday pantry items are all you need when it comes to cleaning windows, according to Previti. Her retro-inspired homemade window cleaner leaves glass and mirrors streak-free and crystal clear. 
Here's how you do it: In a spray bottle, combine a cup of water, a little vinegar and rubbing alcohol, and a few drops of lemon essential oil. Previti says, "Use it as you would normally clean your glass and mirrors, and you'll be amazed!"
2. Polish your stainless steel appliances with olive oil.
This secret tip will knock your bobby socks off, Previti says. After cleaning the outside of your stainless steel kitchen appliance, add a bit of olive oil and a drop or two of lemon essential oil to a dry cloth. 
"Use that to polish the outside of your stainless steel appliances, and it'll give it a beautiful shine with no streaks." Wipe with a microfiber cloth, and it'll leave appliances especially lint-free, she says.
3. Use steam to remove stuck-on food from dishes.
The secret to removing stuck-on food from dishes? It isn't a long soak in the sink. It's steam, according to Previti. Put a pot of water on the stove and bring it to a boil. Once boiling, place the plate of stuck-on food upside down, facing the boiling water, and the steam will loosen the food, allowing it to be wiped away easily, she says.
4. Deodorize carpets with baking soda.
It turns out all you need to freshen up your carpets is a handy box of baking soda, says Previti. Baking soda is an odor absorber, and it's inexpensive and all-natural. 
"In the '50s, people would sprinkle baking soda on their carpets, let it sit for about 30 minutes, then vacuum it up to leave the carpets deodorized and fresh," she says. And it still works today!
5. Clean your toilet with borax.
Previti's old-school solution for cleaning the toilet? At night before bed, sprinkle borax over the toilet water, and then spritz white vinegar as a top layer. Let it sit overnight undisturbed then simply flush in the morning. "If you do this routinely, you won't ever need to scrub your toilet again," she says.
6. Invest in (and wear) an apron.
Here's a tip you won't find in Previti's fun YouTube video: Wear an apron. Previti says that after airing her '50s cleaning video, she received a few comments about how she wasn't wearing an apron. 
"Many viewers commented that back in the '50s people would wear their clothing several times before washing," she says. That's where wearing a protective apron comes in. "This is a tip I've tried to incorporate more because, let's be honest — we all would love to do less laundry!"
Do you have any vintage kitchen cleaning tips? Share your ideas in the comments below.

https://www.thekitchn.com/old-fashioned-cleaning-tips-from-contemporary-mama-23345679