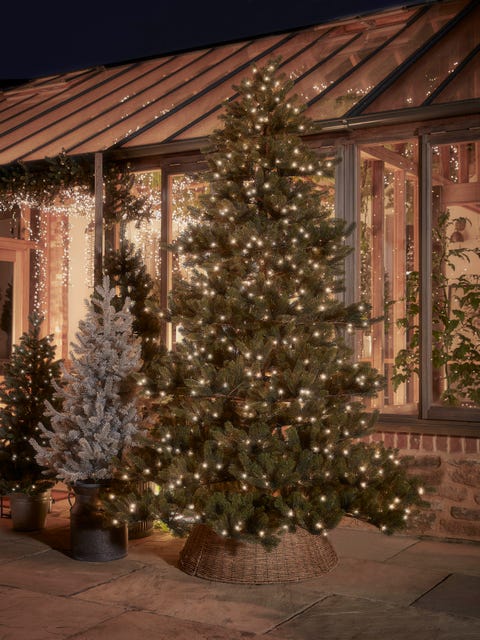 7 Festive Ideas For Porch & Garden
If you're searching for outdoor Christmas decorations, then look no further. As our attention naturally shifts towards indoor holiday decor at this time of year, we shouldn't forget to invest in some Christmas garden decorations to ensure our outdoor spaces are also given the festive treatment.
Decking your outside space with a little festive magic will make your house stand out. Whether it's your back garden, front garden, porch, patio or even a balcony, a few tweaks can make the outside as jolly as the inside.
'This time of year is wonderfully full of warmth and brightness,' Frances Clements, Homebase Christmas Buyer, says. 'Outdoor lights and decorations are such a fabulous way to add Christmas cheer to not only your own home but for the community as well.'
On that note, grab a mince pie and take a look at how you can spruce up your garden this Christmas…
1. Choose an outdoor Christmas tree

Extend the festive cheer to your outdoor space with a show-stopping tree. From understated to extravagant, pretty outdoor Christmas trees are the ultimate way to light up your lawn — and make yours the very best display on the street.
Not sure which one to choose? There's a lot to consider when choosing an outdoor tree. Do you want an artificial tree to reuse every year or would you prefer a real one? Is it strong enough to withstand winter weather? Where will it be placed?
While a traditional spruce or fern tree are among the most popular options, artificial outdoor blossom trees (they won't need watering) also make pretty spectacular displays. The same goes for twig trees, starburst trees and modern cone trees with multicoloured lights. You will also find smaller potted outdoor trees, which look wonderful placed either side of the front door.
'Evergreen ferns like the classic Norway Spruce are notoriously versatile, plus they're a real statement piece, with a lush green colour that complements your other plants. Placing one in your garden means you can enjoy the festive fragrance all year long,' says Monty George, co-founder of Furniturebox. 'For those of us who are looking to give our gardens a seasonal sparkle, embracing natural winter foliage is a great way to get started.'
2. Deck your door
There is something quite magical about outdoor Christmas decorations, especially as rows of houses begin to hang door wreaths, string garlands and switch on twinkling figurines for passersby to enjoy. Once you've chosen your outdoor Christmas tree, don't forget about decking your door.
According to Christmas Tree World, wreaths are among the biggest interior trends for Christmas 2022, with 2.4 million Google searches and 4.3 million TikTok views. From fresh foliage wreaths to artificial designs that you can reuse every year, they bring an extra touch of festive magic to every abode.
3. Hang the lights
Spend some time making your garden glow with outdoor Christmas lights. From wrapping tree branches with lights to placing stake solar lights in the ground, the options are endless when it comes to illuminating your garden.
Stuck for ideas? String a cluster of lights along the roof of the house, hang icicle lights around the front or back door (or even a shed or summerhouse), and wrap tree trunks with fairy lights for just the right amount of sparkle. Don't forget to set them on a timer (or turn them off before bed) to save on your energy bill.
Adam Pawson, Marketing Director at Safestyle UK, reminds us: 'Like any big task, hanging your outdoor Christmas lights can be daunting. To prevent electricity hazards, make sure that your Christmas lights are suitable for outdoor use and won't be affected by rainy winter weather. The same goes for your extension lead, you can purchase durable outdoor extension cords if you don't already own one.'
4. Keep it fun
There is nothing more magical than driving through the streets during the festive season. Once you've hung your sparkling lights, why not add characterful figurines in the form of blow-up silhouettes or light-up gonks? Whatever you choose, they're certain to dazzle every passerby.
The team at Homebase say: 'For a truly iconic winter wonderland, look no further than the decorations and inflatables. If you really want to give the neighbours something to talk about, our 6ft and 7ft inflatable dinosaurs will do the trick.'
5. Consider a fire pit
Winter weather may be upon us, but a fire pit will make all the difference. While it seems natural to hunker down indoors when the temperatures tumble, a crackling fire (and a cosy throw) can extend the enjoyment of your garden.
If you didn't manage to snap up a fire pit this summer, some of the best ones to consider include large steel chimineas (which also allow you to cook up a wood-fired feast), a steel fire pit, and round clay fire pits; ideal for smaller spaces.
6. Choose festive Christmas plants

It's a really good idea to add seasonal colours such as red and white to your garden during Christmas, and flowers such as Hellebore (Christmas rose) is a great choice. Pastel pink and white in colour, they produce big leaves that will fill space and generally last between late winter and early spring.
Another white flower to consider is Clematis Jingle Bells; these flowers have a bold white colour and typically flower from December to January. Clematis Jingle Bells will need some pruning to keep the size down as they can grow up to five metres high.
However, nothing says Christmas quite like Holly (Ilex aquifolium); a hardy evergreen shrub which will produce plentiful red berries and add lots of rich, gorgeous colour to your outdoor space. You can also take cuttings to use for wreaths, swags and vases. Buy from Thompson & Morgan or Crocus.
7. A place to sit (with a blanket)
Now that your garden has been sprinkled with festive cheer, it's time to create a cosy (and warm) place to sit. If you're lucky enough to have a pergola, decorate the wooden beams with twinkling lights for a magical touch or tie some hanging decorations. If you have a bench 0r garden sofa, layer with cushions and throws, or you could simply create a seating area centred around a roaring fire. For balconies, (depending on the size), buy a small bench and add comfy seat cushions, or layer up with thick floor cushions and outdoor bean bags.
Don't forget to store your throws safely in wet weather. 'While throw pillows, blankets and rugs can help make outdoor living spaces look ultra-cosy, it's not practical to keep soft furnishings out during the wet season,' Matt Jordan, Gardening Expert for The Greenhouse People, says.
'Make sure any storage you have is easy-to-access for when you need to quickly grab a blanket on cold winter nights. A water-tight storage bench, for example, is a great way to quickly stash soft furnishings and can double up as a seat for when guests come to visit.'
Conservatories are also great light-filled spaces to fill with your favourite festive decor, so don't forget to string a few lights from corner to corner. A blanket is a must for staying snug in winter.
Follow House Beautiful on Instagram.
---

https://www.housebeautiful.com/uk/garden/a37776728/outdoor-christmas-decorations/