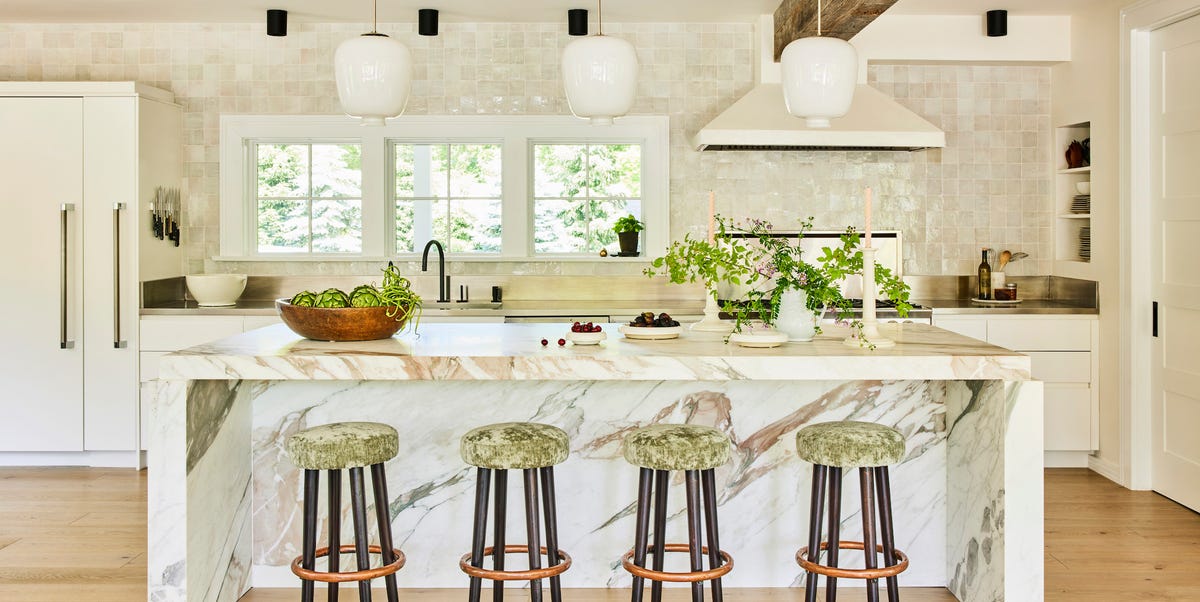 85 Kitchen Design Ideas – Remodeling Ideas for Interior Design
Galley Kitchen: This is as about straightforward as it gets, with two parallel rows of counters, appliances, and storage built-ins along two opposite walls. Galley kitchens tend to be especially popular in small spaces since they work well with standard sizing and also only require two rows with a narrow aisle for standing room.
Straight Kitchen: Straight kitchens are common in small spaces and open floor plan living environments. Unlike the galley, all of the appliances, storage elements, and countertops occupy a single wall while the other wall is optimized with decor or strategic storage. Or, if the room isn't enclosed, it opens right up into a larger space. One of the best ways to separate the kitchen area from the living space in this context is to add a piece of furniture, like a small island, that doubles the counter room and visually sections off each area.
L-Shape Kitchen: This kitchen layout also takes up two walls. The sink, dishwasher, and refrigerator are along one wall or row while the stove is in line with the island or on the corner wall, forming an L-shape. It's a great go-to for busy cooks who do a lot of meal prep and appreciate an easy cleanup job.
U-Shape Kitchen: Just like the above, it's exactly what it sounds like. The appliances and surface spaces form a U-shape, usually framing the parameter of the room. Typically, the sink and dishwasher will be side by side, and then on the corner wall, you'll have your stove and other appliances, like a refrigerator, and one of the counter spaces can even curl off the wall to create a casual breakfast bar. It can help streamline complex cooking, and if the room is big enough, an island can be added in the center.
Open Kitchen: An open kitchen can also be referred to as the great room, but it really just speaks to the types of kitchens that are open to the living room family room, dining room, and/ or breakfast nook. The shared space allows for more time spent together and is especially good for families.
Island Kitchen: An island can enhance a kitchen of various layouts, whether you add one to a straight kitchen, L-shaped, U-shaped, or open kitchen. They can even actually work nicely in galley kitchens if it's wide enough to fit one. Functionally, they can add extra counter space for cooking and casual dining, they can be outfitted to accommodate appliances or extra sinks, and they allow you to pack in extra storage.
https://www.housebeautiful.com/room-decorating/kitchens/g623/beautiful-designer-kitchens/