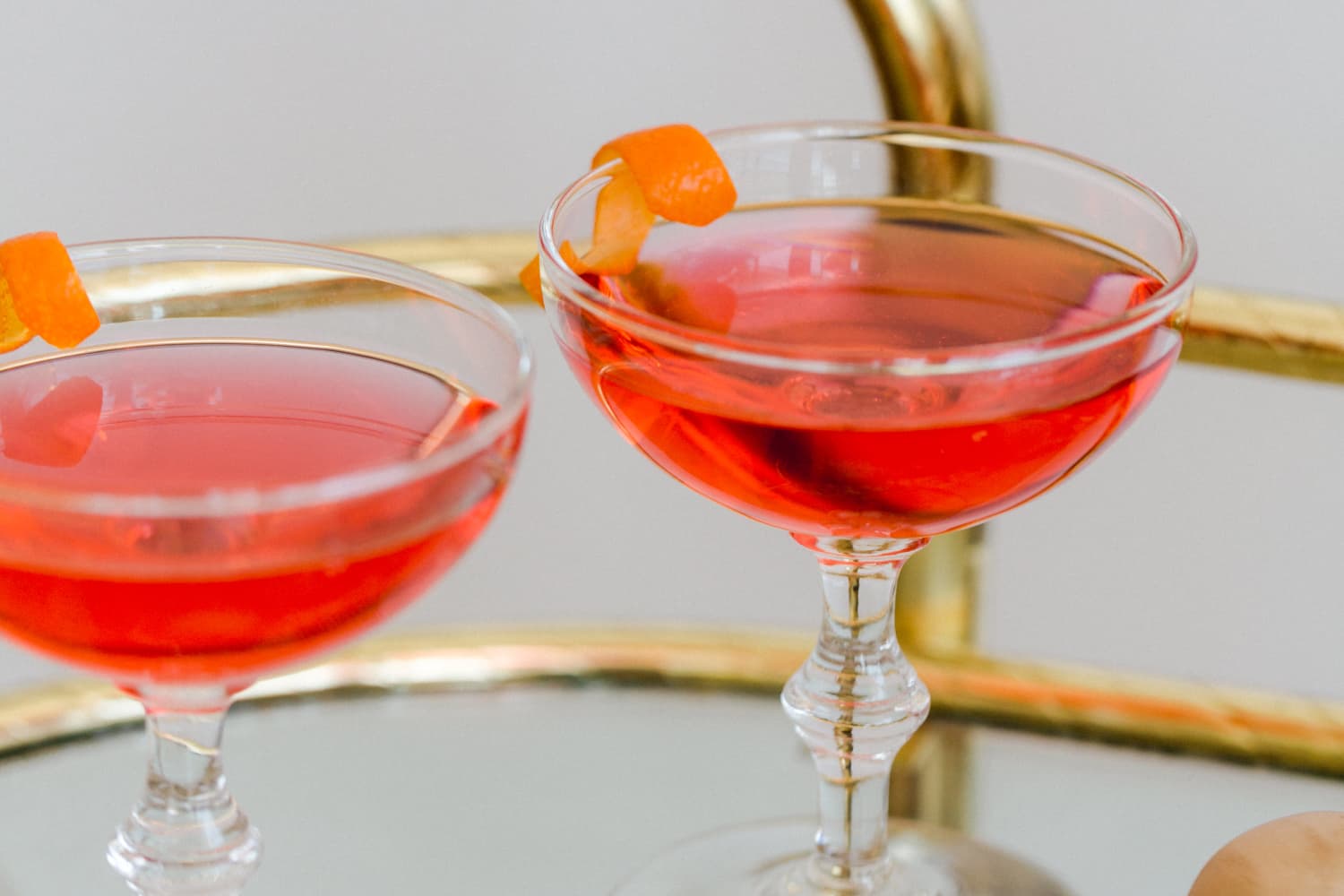 Bar Cart Cleaning Tips From Bartenders
We independently select these products—if you buy from one of our links, we may earn a commission. All prices were accurate at the time of publishing.
Not so long ago, the bar cart was the "it" piece one needed to achieve the Platonic ideal of the stylish and sophisticated home. Inspired by Don Draper and friends, cocktail culture, and more, a lot of people bought bar carts. But as lovely as they are, bar carts don't come with a guide to keeping them looking shiny and new. For answers on how to do just that, we turned to professional bartenders. Here is what we learned. (Take note, because nothing kills a buzz faster than a fuzzy martini.)
Dust is one of the biggest bar-cart offenders. The simple solution? "Dust it. They get very dusty," says Felipe Muñoz of Manhattan bar Overstory. For surfaces, Gaston Ron, CEO and founder of event company Urban Country Bar, recommends universal 100% cotton cleaning towels soaked in hot water. To disinfect, he suggests a bleach-water solution of one teaspoon mixed with six cups of water — or you can use sanitizing wipes, as Muñoz does. 
Keep glassware clean and dry.
Use a simple solution of dish detergent and water to clean your glassware, and dry it with a polishing cloth, such as the ones sold by high-end glassware company Riedel. To make sure your glassware really sparkles, Muñoz recommends spending a little more on your glasses. "High-quality glasses get fewer water marks." Finally, if it's possible, make sure your wine glasses are hanging, says Kelsey Lalley, who's worked at Tampa's Dubliner Irish Pub.
Clean your tools regularly.
Your tools — shakers, strainer, muddler, peeler, bar spoon, jigger, etc. — while not physically a part of your cart, are key to keeping your mixology game on point, according to our pros. 
"My favorite product to clean my bar tools is hot water and home dish soap," says Ron. "Clean them with hot water and soap, rinse well, and dry out all your bar tools and store them safely. Hot water guarantees that any sweet product, such as syrups, juices, etc., melts out properly, leaving your tools properly cleaned — and this goes for glass, brass, chrome."
For wood, Ron likes Pledge; for brass, he likes Weiman metal cleaner. Muñoz is a fan of using a toothbrush and toothpaste for brass. What about Bar Keepers Friend? "To be honest with you I've never used Bar Keepers Friend in 16 years of professional bar experience," says Ron. "If you clean your tools properly every time you're done using them, you'll never need products like Bar Keepers Friend."
Finally, let's talk about the actual ingredients. It's probably not a surprise that mixers such as juices, syrups, sweeteners, muddles, fruits, and eggs should be stored in the refrigerator; the same goes for tonic water and club soda once they are opened. Lalley advises keeping an eye on mixers like grenadine, Chambord, and Curaçao, which can condense, and being vigilant about checking expiration dates. Cream liquors and fruit-based liquors should also be kept refrigerated.
You don't have to worry about bitters, which can live happily on your cart with no issues. In fact, most liquor can be stored outside the fridge. That said, you can extend the shelf life of wine-base products such as vermouth and aperitifs like Lillet, sherries, and ports with refrigeration. "Although high-proof liquors do not need to be stored cold, there are some that are mostly enjoyed really cold," says Ron. "If you have a really good vodka or a limoncello, you can keep it in the freezer." 

https://www.thekitchn.com/how-to-clean-your-bar-cart-according-to-professional-bartenders-23488111