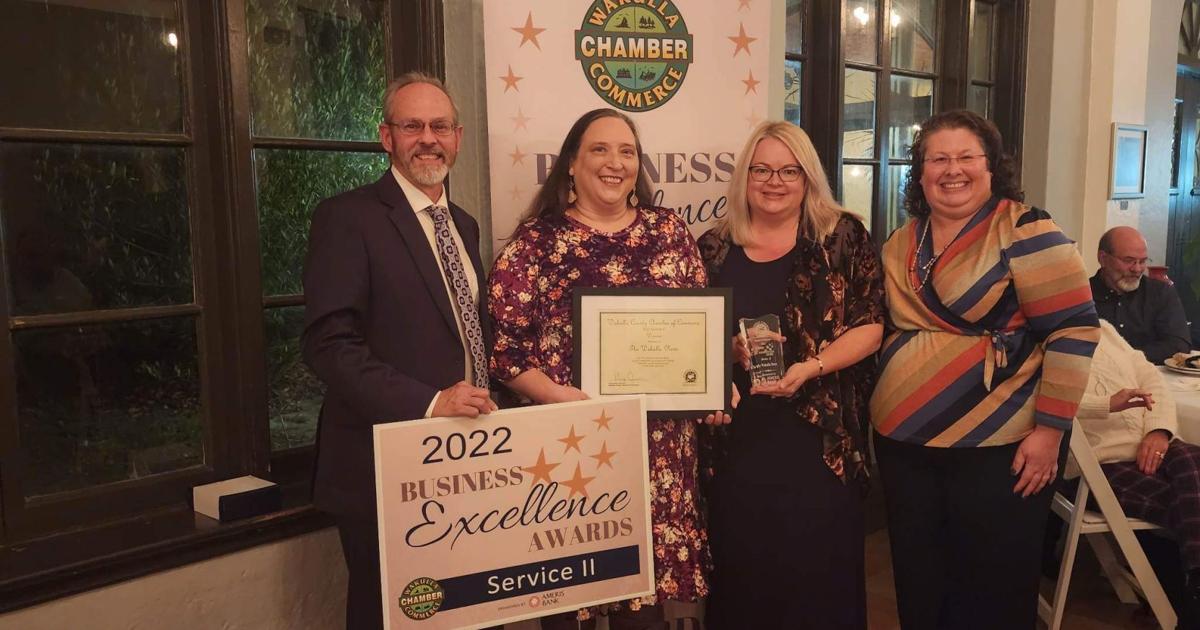 Chamber hosts annual Business Excellence Awards | Local News
Many members of the local business community turned out Thursday, Nov. 17, for the 2022 Business Excellence Awards Banquet hosted by the Wakulla Chamber.
The ballroom at The Lodge at Wakulla Springs was packed for the event.
The program included presenting seven Business Excellence Awards and the 2022 Volunteer of the Year.
Niraj Patel received the 2022 Volunteer of the Year award. Other nominees were: Denise Colangelo, Missy R. Gainer, Winky Jenkins-Rice and Petra Shuff.
The Wakulla Chamber 2022 Business Excellence Awards had seven categories: Consumer Services, Nonprofit (Paid), Nonprofit (Volunteer), Professional Services, Service Business (Level 1), Service Business (Level 2) and Trade Business.
The Consumer Services award went to Shell Island Fish Camp & Marina. Nominees were: Ace Hardware, Amazing Mail Solutions, Art by Cheryl, Badcock Furniture, Barn's Spirits, Best Western, BizCoRentals, Blessed at Hands Boutique, Breakfast Station, Chicken Salad Chick, Crum's Mini Mall, Donkeys Bar and Grill, Expandacraft, Food N Fill #2, Good Times for Rent of Wakulla, Hamaknockers BBQ, J&K Rocks, The Kast Net, Lee Trailer Sales, Mack's Country Meats, McIver Flooring & Supplies, Mike's Feed Store, Myra Jean's, Noshoe Firearms and Accessories, Ouzts Too Oyster Bar & Grill, Panacea Chocolates, Porter Island Seafood Restaurant, Posey's Steam Room and Oyster Bar, Riverside Café on the River, Rocky's Wakulla, Sand and Soul Designs, Seineyard at Wildwood, Shell Point Marine & Power Sports, Snappy's Express Car Wash, The Lodge at Wakulla Springs, Walmart and Zaxby's.
The Nonprofit (Paid) award went to Lighthouse of the Big Bend (LBB). Other nominees were: American Red Cross, Capital Region; Capital Area Community Action Agency, Capital City Youth Services, Capital Health Plan, CareerSource Capital Region, Disc Village, Early Learning Coalition of the Big Bend Region, Elder Care Services, Florida Wild Mammal Association, Gulf Specimen Marine Laboratories, Keep Wakulla County Beautiful, N. FL Child Development, North Florida Medical Center – Panacea, Panacea Area Water System, Tallahassee Board of Realtors, Tallahassee Community College Foundation, Wakulla Senior Citizens Council and Wakulla Teen Center.
Nonprofit (Volunteer) award went to Women of the Moose, Chapter 2224. Other nominees were: Camp Gordon Johnston Assoc. & WWII Museum, Crawfordville Lions Club, Florida Big Bend Scenic Byway CME, Grace Embraced Ministry, Habitat for Humanity of Wakulla, Miss Wakulla County Scholarship Pageant, Operation Wakulla, Panacea Waterfronts Florida Partnership, Paws of Wakulla, The Salvation Army Tallahassee Corps, Theater with a Mission, Wakulla County Historical Society, Wakulla County Horseman's Association, Wakulla Ducks Unlimited and Zeta Phi Beta Sorority.
The Professional Services award went to North Florida Learning Center. Other nominees were: AAA – The Auto Club Group, Adriene Hill DC DIBCN, AFLAC Independent Agent, Jeffrey A. Ewaldt; Al Pasini, MPA, CAE; Anderson, Givens, & Fredericks; Attack-One Fire Management Services, Beth Kirkland Consulting, Bevis Funeral Home of Crawfordville, Cook Insurance Agency, Crawfordville Chiropractic Clinic, Edwin Brown & Assoc., English Financial Group, Family Funeral Home and Cremation Services, FlaBiz Co., Frances Casey Lowe/Lowe Title Services, Guardian Public Adjusting, HUB Florida Wakulla Office, Hydra Engineering & Construction, Kiersten Smith – State Farm, MyEyeDr, North Florida Payroll Services, Shepard Accounting & Tax Service, Shepherd Spring Animal Hospital, Southeastern Dermatology, Southeastern Therapy Services, Tallahassee Memorial Healthcare, Thurman Roddenberry & Assoc., TMH Physician Partners Wakulla, Total Care Dental, Traci B Cash CPA, Urban Catalyst Consulting, VCA Wakulla Animal Hospital, Wakulla County Farm Bureau, Wakulla Urgent Care & Diagnostic Center and Wynn & Associates.
The award for Service Business (Level 1) went to Talquin Electric Cooperative. Other nominees were: Amerifirst Home Mortgage, Ameris Bank, Capital City Bank, Centennial Bank, Duke Energy, Eden Springs Nursing Home and Rehab Facility, Envision Credit Union, ESG Operations, FSU Credit Union, Gulf Winds Credit Union, Marpan Recycling, Prime Meridian Bank, Tallahassee Leon Federal Credit Union, WastePro and WTXL TV.
The award for Service Business (Level 2) went to The Wakulla News. Other nominees were: American Inspections, BlueWater Realty Group, BNI of NW Florida, Body-Tek, Coastwise Realty, Coldwell Banker Hartung, Crystal Clean Maid Service, Fairytales Event Rentals, GutterWerks, Harbor Point Realty, Harvest Print & Marketing Solutions, Hayward Title Group, Howdy's Rent A Toilet, Inspired Technologies, J&K Lawn Service, Lewiswood Farm, Lube X-pert, North Pointe Center, OVID Solutions, Revell Tractor Worx & Land Services, Rybak Realty, Sherlock Springs, Sue's Art Workshop, The Wakulla Sun, The Yard Bar 850, Tiger Rock Martial Arts, VOLLEYiQ, Wakulla County Girls Softball Assoc., Wakulla County Youth Baseball Assoc., Wakulla Realty, Wakulla Sign Company, Wakulla Title Company, Wakulla United Futbol Club, Wave 94, Waypoint Properties and WIP Realty.
The award for Trade Business went to Blackfoot Roofing & Construction. Other nominees were: A New Look Painting of N. FL, Advanced Air Care Heating & Cooling, AirCon of Wakulla, Barksdale Custom Pools, Beacon Home Renovations, Brattain Electrical Services, Bryker Body Care, C&L Pilings, C.W. Roberts Contracting, Cabs and Counters, Camellia Cottage Day Spa, Crawfordville Auto & Tire, D.R. Horton, D.R. Fence & Deck, Faircloth Automotive & AC Specialist, Great Southern Demolition, Hartsfield Construction, High Quality Heating & Air, Keith Key Heating & Air, Laurie's Eye Candy, Logan Roofing, McKeithen & Sons Roofing, Morse Construction and Restoration Services, North Florida Lawn & Tree, Pafford Properties & Construction, PhantaSea Day Spa, Puppy Purrs Dog Grooming, Residential Elevators, Revell Electric, Inc. & Automated Access Systems; Root 319 Cuts & Color, Southern Coastal Homes, Sperry & Assoc., and Streamline Roofing and Construction.
The Lodge at Wakulla Springs was also recognized at the banquet.
The event was presented by Ameris Bank and sponsored in part by The Wakulla Sun.
https://www.chronicleonline.com/weeklies/wakulla_news/local_news/chamber-hosts-annual-business-excellence-awards/article_c407d9c9-2573-570a-a884-906f2fde3ce9.html