How can I save money on kitchen cabinets? Kitchen experts advise
How can I save money on kitchen cabinets is a question many ask when designing a kitchen on a budget.
A new kitchen is one of the largest costs people encounter when renovating a home. With so many elements to consider, from appliances and worktops to fixtures and fittings, costs can easily spiral out of control. However, with some clever thinking and careful planning there are ways to create a practical and stylish kitchen that doesn't cost the earth.
Cabinets are often the most expensive part of a kitchen, so we asked the experts for their tips on how to make kitchen cabinet ideas more affordable and have rounded up a host of inspiring designs.
How can I save money on kitchen cabinets?
There are many ways to save money on kitchen cabinets, from budget kitchen remodel ideas like reviving kitchen cabinets with a lick of paint, to streamlining the the cabinets you need or replacing them with alternative kitchen storage ideas. Here we share our favourites along with advice from kitchen designers. 
1. Plan your layout carefully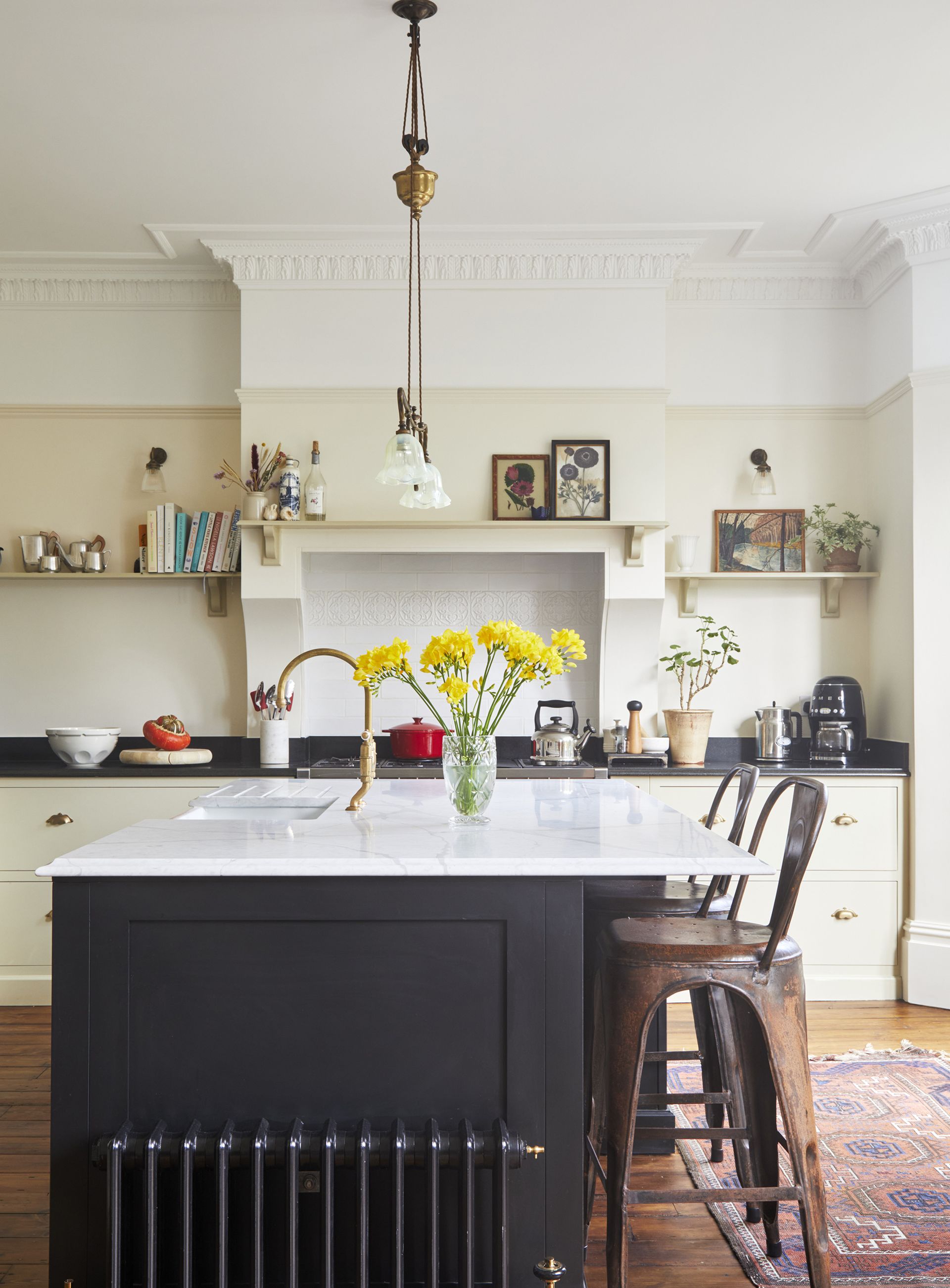 Having lots of cabinets may seem appealing, but there's no point in spending money on cabinets that you don't need. It goes without saying that limiting cabinets to those that are essential will help keep the cost down. To ensure you have adequate storage, do an inventory during the planning process of what you need to store. 
'Ask yourself what items you really need and use on a daily basis,' says Al Bruce, founder of Olive & Barr (opens in new tab). 'Clear out those extra baking dishes that are collecting dust. Whether you have a large space or a smaller kitchen, getting creative with your storage solutions will make sure your kitchen remains clutter-free, while saving on the amount of cabinets necessary.'
Similarly, Dave Young, founder of Husk (opens in new tab) suggests to, 'think about how much storage you need and divide your kitchen equipment into 'every day', 'sometimes' and 'hardly used. You need the everyday items to be close to the food preparation area, perhaps on open shelves, the 'sometimes used' items need to be within easy reach and the 'hardly used' can be further away, perhaps in a freestanding cupboard.'
2. Invest in quality
While it may not save you money on cabinets at the outset, investing in high quality, bespoke cabinetry constructed from durable hardwoord and designed specifically to meet your individual needs will ensure your kitchen stands the test of time and can help save money in the long run. 
'When purchasing anything, it is always important to buy locally made products if you can. It is also good practice to purchase things of a high quality, things that will last and not need replacing, things that are really well made with good materials by craftspeople with a skill,' says Helen Parker, creative director of deVOL. (opens in new tab)
'Going back to the way we used to live, where we bought things once and we used them every day and did not consider or need to keep replacing them. This is a good way to live and whilst the initial outlay can sometimes be more costly it is worth considering that once bought it will serve you well for many years if not a lifetime.'
Michael Sandsmark from Design West agrees commenting that, 'when value engineering kitchen cabinetry it's important not to compromise the overall quality. This can easily be done by choosing standard finishes and designs,' suggests the interior designer.
3. Choose standard cabinets designed for self-assembly
For competent DIY-ers, a great way to make a kitchen more affordable is to, 'use stock cabinets (pre-made cabinets in a limited range of sizes) and install them yourself,' suggests Amy Forshew of Proximity Interiors (opens in new tab).
There are many companies such as Ikea that offer flat pack or pre-made, modular kitchen cabinets ready for self assembly in a wide variety of styles. If you're not familiar with how to install kitchen cabinets, 'there are plenty of "how to" videos that can guide you through it,' says Amy Forshew, however she suggests to 'leave the countertop installation up to the professionals.'
4. Customize a standard kitchen
Fitting pre-made cabinets in standard sizes with bespoke doors is a wonderful way to create a stylish designer kitchen on a budget.
Ikea offer standard, flat pack cabinets as part of modular systems that can be arranged in endless ways to suit your space and needs. Sturdy and flexible, Ikea kitchen carcasses are a great base for customizing and there are many companies that offer custom elements. For those after a chic, Scandi look, Plykea offer bespoke birch plywood doors in a range of styles specifically designed to fit onto Ikea METOD cabinets.
'Ikea kitchens are well designed and have great functionality. Their kitchen storage organizers and accessories are carefully considered, allowing you to adapt the kitchen to your needs, making cooking and mealtimes more efficient. By combining an Ikea kitchen with our fronts, there are so many possible combinations to create a kitchen which will be uniquely yours,' says Anne Clouston, designer at Plykea (opens in new tab).
'A budget friendly way to hide the underneath of the ikea cabinets, is to use our invisi-pull handle. For this, we make the doors around an inch longer (30mm), and we shape the bottom of the door to create a pull which is opened from the reverse,' adds Anne Clouston – this also saves on the cost of cabinet handles.
5. Fit wall shelving
When it comes to saving money on kitchen cabinets think about exploring alternative storage ideas. 'One of the ways to lessen the cost of kitchen cabinets is to reduce how many you need. Your favourite tableware needn't be stowed away, why not consider creating a display on shelving,' says Al Bruce of Olive & Barr.
Limiting your cabinetry to base cabinetry and introducing kitchen shelving ideas can be a great alternative which will also make your kitchen feel lighter and more spacious – perfect for small kitchen ideas. 
Storing items on shelves is a great idea for items you use frequently and need close at hand like tea, coffee and mugs. They also make a lovely space to display beautiful ceramics. 'Another option for more unsightly kitchenware is to store in rattan baskets, again these can be beautifully styled on shelves and above cabinetry,' adds Al Bruce.
'If you have an island, you can suspend storage above it on open shelving, this is perfect for storing glasses and crockery that you use every day,' adds Dave Young of Husk. 
6. Choose freestanding over fitted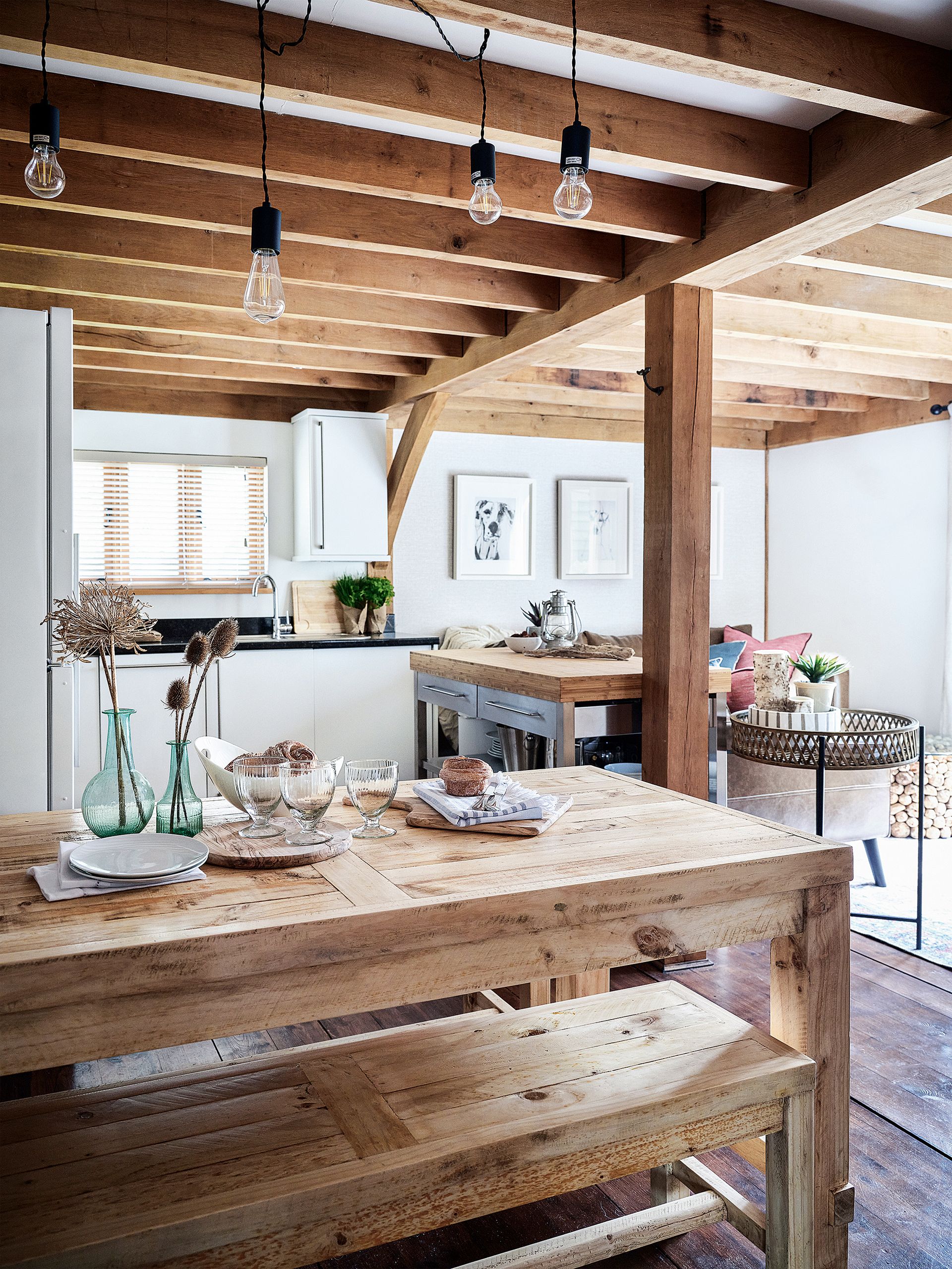 Opting for a kitchen composed of portable pieces can be a great way to save money on kitchen cabinets as it allows you to spread the cost and add to the kitchen over time. 
Another benefit of a freestanding kitchens over fitted kitchens is that the kitchen layout can be reconfigured with ease should you next to change how you use your space, plus the furniture can be brought with you if you move house, saving the need to buy a brand new kitchen. 
'You don't have to renovate the kitchen to fit more storage in, Ikea has some fantastic pieces you can add to your home in a quick and easy way and at an affordable price,' says Clotilde Passalacqua, interior design leader from Ikea UK and Ireland.  
For example, the RIMFORSA work bench, pictured above, is a perfect addition to a busy kitchen. 'You can utilise the bottom shelves for frequently used items such as pots and pans, whilst the bamboo worktop is easy to use and clean, perfect for all the prep work needed when making delicious food.' 
7. Choose a second hand kitchen
Buying a kitchen which is used or ex-display is a wonderful way to save money whilst limiting your impact on the environment and there are an increasing number of companies that specialize in this service, offering sustainable kitchens for all styles and budgets.
While this route allows you to get hold of designer kitchens at a fraction of the original price, the drawback is you are restricted by sizes available. To help customers make an informed choice, most sellers will provide a full break down of individual cabinet dimensions as well as the overall dimensions in the listing.
Here a second-hand shaker kitchen from Used Kitchen Exchange (opens in new tab)has been given a new lease of life with a fresh coat of paint and beech worktops.
8. Revive existing cabinets
If kitchen cabinets are structurally sound they needn't be replaced if you're simply after a new look. Painting a kitchen or refinishing kitchen cabinets is a quick and easy way to give a kitchen a new lease of life which can be done over a weekend. Most cabinet doors can be painted, including vinyl and mdf – the key is using the right paint finishes and to use a primer says Ruth Mottershead, creative director of Little Greene (opens in new tab).
'Kitchen cabinets need special consideration as they require a tough, hard-wearing, washable finish – we would recommend using Intelligent Satinwood which will withstand all the knocks of a busy home.
'Our all-surface primer ("Intelligent ASP")  allows you to use Little Greene finishes on a wide variety of surfaces, including kitchen cabinets, porcelain and ceramic tiles, so you can give all areas of the kitchen an instant refresh.'
Alternatively, updating hardware for designer handles is another easy way to instantly elevate the appearance of existing cabinets, giving you a high-end look for less.
9. Incorporate vintage pieces
There are many second hand or antique pieces of furniture available on internet auction sites which, with a little imagination, can easily be repurposed or upcycled into practical kitchen units, plus decorating with vintage is a wonderful way to bring unique character.
Here homeowner Sharon Hunt had bespoke units made to incorporate vintage elements to complement the character of her historic Georgian home. 'Nothing in the kitchen matches; everything is made from salvaged wood, often from pieces of furniture that are beyond repair. I absolutely love the drawers made from old vegetable crates.'
https://www.homesandgardens.com/kitchens/how-can-i-save-money-on-kitchen-cabinets